Bernice and Glenn have a long history with the Garden. They share the legacy…the past, present and future of Amy B.H. Greenwell Ethnobotanical Garden, along with several other members of the Friends.
Bernice, an internationally recognized multi-media artist, is a Director on the Friends' Board. Glenn, one of the Garden's two employees, works side by side with the Manager Peter Van Dyke.
In the beginning...
In 2005, Bernice, who was in the Resource Management Graduate Program at Central Washington University, was looking for a summer internship opportunity. She wound up doing two summer internships at the Garden, while Glenn volunteered with Peter and the horticultural staff. Eventually, both Bernice and Glenn became Garden employees: Bernice as the Ethnobotanical Educator and Glenn as a Groundskeeper.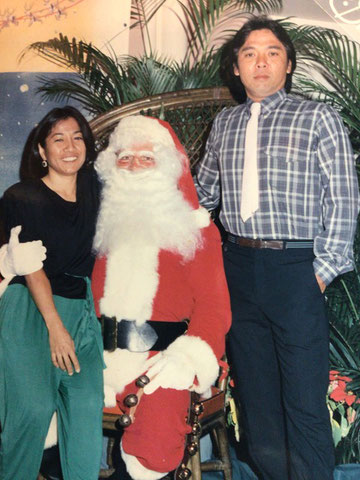 A Garden Passion
Both Bernice and Glenn are passionate about ethnobotany and the importance of the Garden as a Hawaiian cultural and botanical resource. Glenn's current focus is in "keeping the Garden looking good" and maintaining the signage in the Garden. Bernice is working on three videos for the Kaulunani ('ulu, breadfruit) project which we hope to share with schools in the future. She also is in the design stage of a Garden wauke (paper mulberry) planting area as well as working on a wauke and kapa-making partnership between the Garden and Donkey Mill Art Center. (Kapa is Hawaiian bark cloth made with skill, care and much labor from the inner bark of wauke).
Bet You Didn't Know...
Bernice is the first (and maybe only) journeywoman ceramic tile setter in the state of Hawai'i!
One of Glenn's first jobs was as a glazier (a person whose profession is fitting glass into windows and doors). However, Glenn thought he was applying for a job in a bakery, glazing donuts!
Bernice's Current Work
Pololia Jelly fish made of wire and glass beads (if you know Morse code read the hidden messages!) Above the Equator Gallery in Hilo (www.ategallery.com).
Ho'okumu-Moana. Bernice says: "This installation speaks of the water cycle from the mountains to the ocean and back again. It also reflects the Hawaiian sailing tradition and our place in the middle of the Pacific Ocean." See it at Thomas Square on Oahu.
Kalo – See this installation in the (Re)Generations exhibit at Bishop Museum on Oahu.
Hulu – Part of a group exhibit opening this month at Wailoa Center in Hilo. 
Words by Pat Todd & Rose Schilt