Background by Peter Van Dyke
Amy B.H. Greenwell Ethnobotanical Garden started collecting kalo (taro) in the early 80s. Now the collection includes over 70 varieties, almost all of the recognized Hawaiian taro types. Planting starts with huli (cuttings made from the tip of the corm and part of the stem); fibrous white roots form as the huli grow. For the first six months after planting, the energy is concentrated in the roots, stems, and leaves, and the plants are watered and fertilized. Then the energy shifts and watering is cut back and fertilizing stopped as the corms develop. After eight to twelve months, depending on the variety, the plants are ready to be harvested and replanted.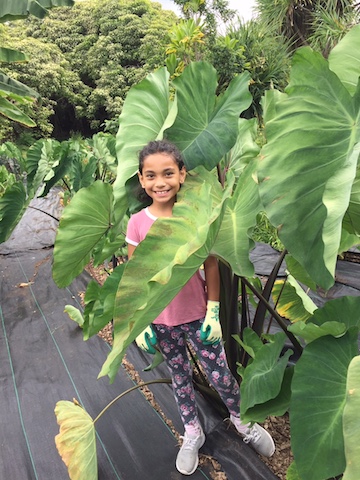 The Kalo Harvest by Kanani Wall

The plants were calling and the people responded! Kalo enthusiasts from across the island gathered together under the stewardship of Keahi Tomas, Kamuela Naihe-Meheula and Peter Van Dyke to care for the Garden's living collection of kalo. Families gathered together under COVID protocol and worked in teams to harvest, clean, propagate and share iʻo, huli, lau, mo'olelo, and 'ike with one another. Strengthening our kalo network lifts the lāhui and helps us rely on one another in the protection and propagation of kalo.