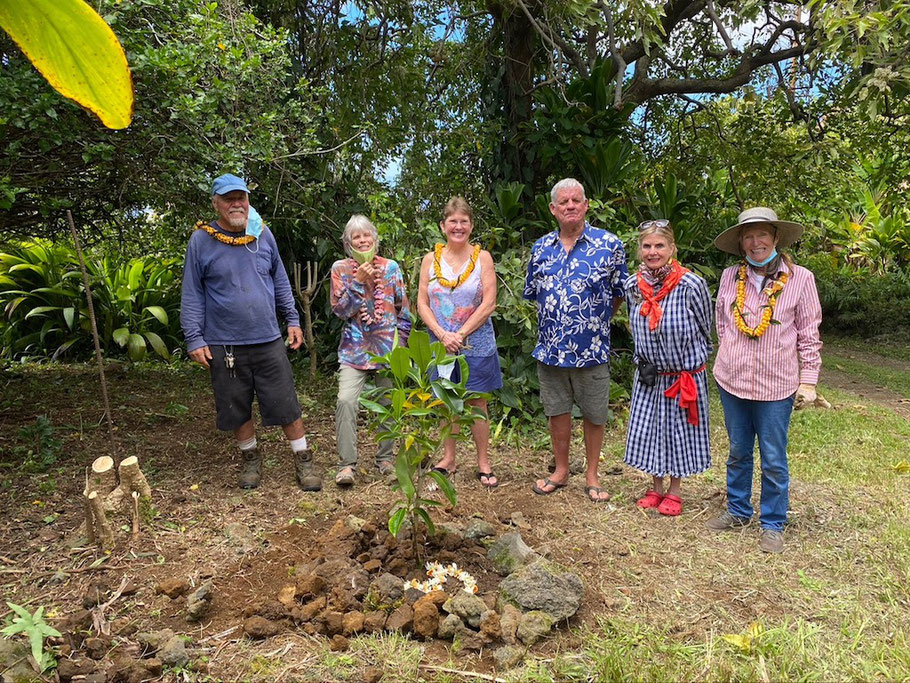 Peter Van Dyke, Garden manager; Meris Emory, Kenneth Emory's grandniece; Meg Greenwell, Amy Greenwell's niece; John Mitchell, Amy's cousin; and Maile Melrose, Friends' president, celebrate Amy Greenwell's 100th birthday (which was on September 7) by planting a puakenikeni tree in memory of Dr. Kenneth Emory.
Dr. Emory was Amy's great friend and guiding force at Bishop Museum behind the creation of our Ethnobotanical garden.
 On this special occasion, Meris (who had flown in from San Francisco and quarantined herself for two weeks specifically for this day) spoke to our Friends' board members about her famous Great Uncle with great affection and humor. We toasted the enduring friendship between Amy and Kenneth with champagne and chantilly cupcakes, and look forward to the day Dr. Emory's tree is covered with blossoms in Amy's Garden.