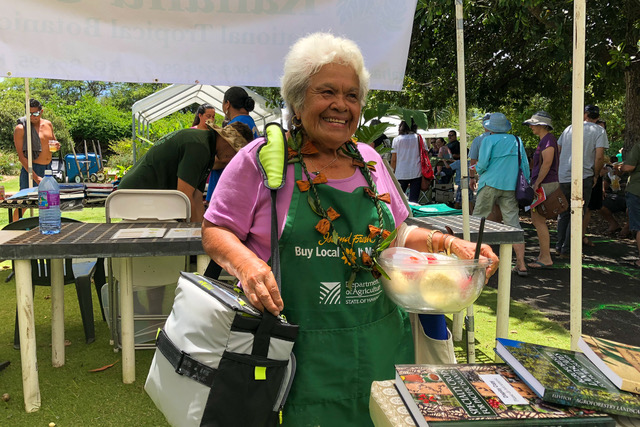 Lomi 'Ulu recipe: from the kitchen of Aunty Shirley Kauhaihao
Ingredients:
2 cups mature, cooked ulu, 1/4 to 1/2-inch cubes

1 Tbs. inamona

1 Tbs. rock or sea salt
2 stalks green onion, finely sliced
1/4 cup sweet onion, chopped
2 chili pepper (chopped) or chili pepper water to taste, optional
3/4 cup tomatoes, chopped
Directions:
In a large bowl, combine ulu with salt, toss contents and set aside.

In a separate bowl, combine the remaining ingredients, except chili pepper. Toss or fold to bend.
Add ulu to the mixture and chili peppers (optional) and mix well.
Add more salt to taste.
Serve as a salad or as a dip with crackers or chips. Enjoy!
Words by Shirley Kauhaihao and photo by Craig Elevitch
Do you have a favorite recipe using 'ulu (breadfruit)? Let us know in the comments below or post your recipe (and photos) on our Facebook group page!
Lomi 'Ulu recipe
Lomi 'Ulu recipe.pdf
Adobe Acrobat Document
201.3 KB