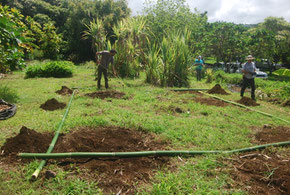 Peter and Kanoa Kimball, long-time friends of the Garden and faithful weeders, have been dreaming up an eye-catching display for the Garden's main entry for a long time. We are happy to announce the project began with a bang on June 13th. First, Kanoa harvested an impressive stack of 'ohe from our own thriving clump of Hawaiian bamboo (the type so prized for nose flutes!). Volunteers then received expert instruction in knot tying with hemp twine, channeling his or her inner Boy Scout.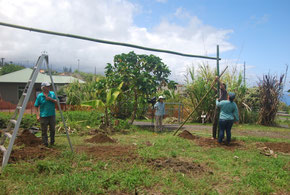 Then, the exciting process began of standing up bamboo poles and lashing them together to construct a large open framework suitable for supporting several gourd plants! And not just any gourd plants, but wonderful Polynesian gourd vines, the type called 'Ipu – the Bottle Gourd in the family Curcurbitaceae – which produce amazingly large long necked gourds so essential to Hawaiians of old.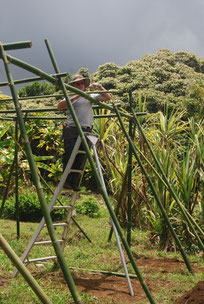 After the bamboo tower arose, mounds of fresh soil were placed at each main sloping support pole. Then, Peter produced his special cache of 'ipu seeds, saved for this auspicious moment. With the threat of rampant chickens, a few mischievous pigs and the inevitable curse of the cutworm, young plants are always at risk of an untimely end. Filled with hope, volunteers planted three or four seeds in each mound, patted down the soil, watered each hill, and prepared to wait.
One week later, signs of life appeared! Three weeks later, small plants are now reaching for sunlight and developing true leaves. Soon, tendrils will appear and our little vines will embrace their bamboo palace, built especially for them. This display is going to be a show stopper when dozens (dare we hope!) of mature gourds hang in graceful array within their bamboo palace. As we say in the Garden, the show must go on!
Words by Maile Melrose and photos by Kealoha Manaku