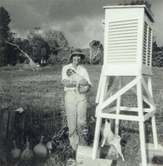 Sixty-six years ago, Amy Greenwell built herself a redwood home in Kealakekua, happy to settle down as a single lady with her pugs, her flower seeds, and all the time in the world for her interesting pursuits: cave exploration, weather reporting, Hawaiian plant propagation, and pug breeding.  Unfortunately, Amy died too soon, but her will established our Garden, a silver lining that shines more brightly with each passing year. 
Her home is still standing along Mamalahoa Highway, the driveway partially hidden by huge kukui trees. On the mauka side of her home are kennels for her pugs and a stone cistern to hold drinking water collected off her metal roof top. In 1954, in case you have forgotten, there was no County water supply in Kona, much less a public sewer system.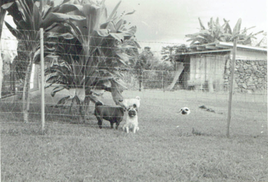 Amy's house has been lived in and enjoyed by countless people since her death in 1974, beginning with Herb Kane, the well-known artist who was affiliated with Bernice Pauahi Bishop Museum at the time. Mainly, it has housed archaeologists and garden managers, gardeners and students – a convenient place to live while working in the Garden.  
As one would expect after 46 years of hard use, the house needs lots of Tender-Loving-Care and a big infusion of CASH! In the months ahead, we will keep you updated as rotten floor boards are removed and windows frozen shut are replaced.
However, the view of South Kona is still breathtaking from Amy's front lanai. The redwood walls are mostly intact. Board members have different visions of how best to use the house and surrounding lawn as a new program space to draw visitors and children to the Garden. Rest assured that we are going to come up with some great ideas that will need your help to come true. Stay tuned!
Words by Maile Melrose